MyAir 5
Compatible with all major brands
Superior 8-inch tablet with internet access
Stylish, intuitive user interface
MyAir app for smartphones and tablets
Option of temperature sensors
Option of energy-saving motion sensors
Remote access to control your Air Conditioning
MyAir5 is Advantage Air's most advanced air management system ever. By downloading the MyAir app for your smart device, you can remotely control your reverse cycle air-conditioning from anywhere. You can adjust the airflow to every room, or for complete comfort, by installing Individual Temperature Control sensors, they will adjust the airflow automatically for you. Also the addition of motion sensors can control the room temperature efficiently depending on occupancy.
MyAir5 is compatible with all major brands of air conditioners so you have the flexibility to choose the right unit for your home. And not only does the 8-inch touchscreen double as an Android tablet, it completely integrates with MyLights, our smart home lighting system.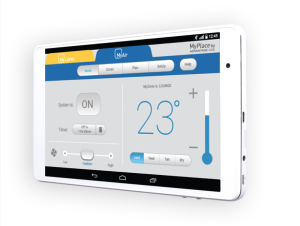 Zone 10e
Touch screen controller
Standard remote control app for your smartphone or tablet
Adjust the airflow to any room from 10% -100%
10 zones for complete control
Pre-selected dump zone only opens when needed
Easy to set up scheduling
Remote access to your zone control
Ezone 10 is Advantage Air's zone only control system. By having this system installed you can control the air flow to each and every zone for complete comfort via the tablet and the downloadable app on to your smart phone. You have additional features for programmes to coincide with timers on your Air Conditioing controller to open and close zone at certain times, also the amount of air.
This controller is ideal where your ducted air conditioning system is already installed and looking for an upgrade where MyAir 5 is not compatible.